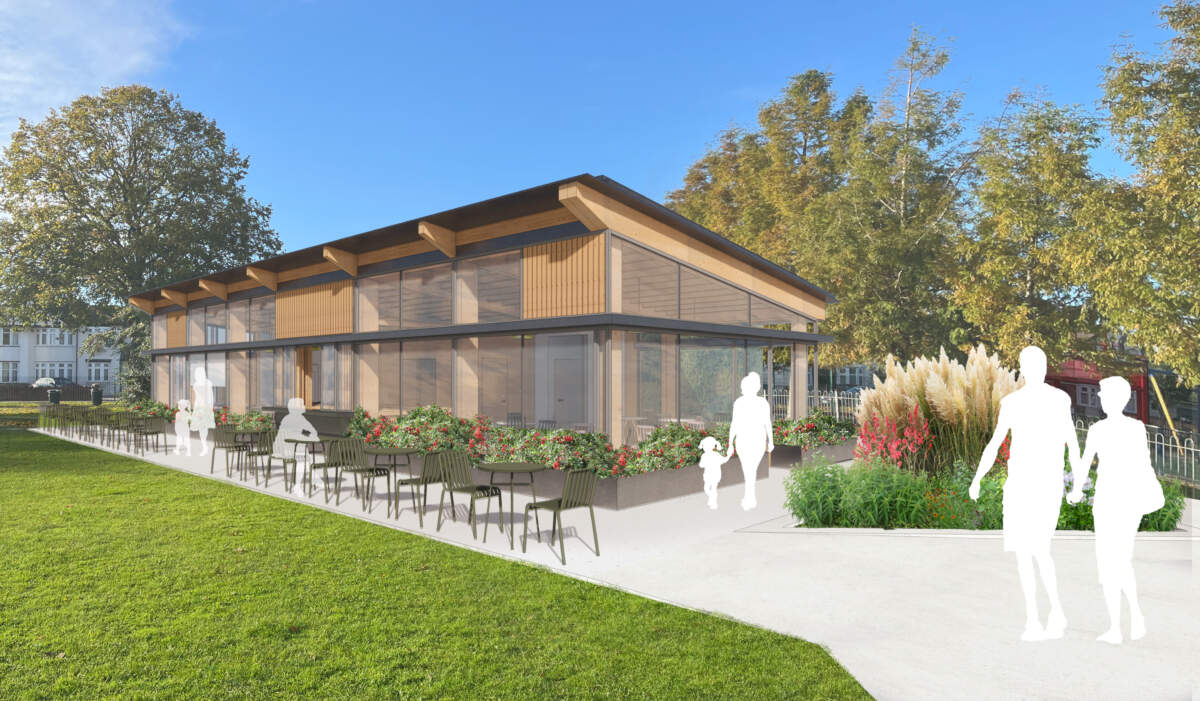 The proposal would have a positive effect on character, with a proposal for an elegant structure to replace the existing one. The significant soft landscape input is welcomed
l. Heathfield Pavilion
The Friends of Heathfield Recreation Ground have been working tirelessly to bring forward the proposals for an updated Sports Pavilion.
It has been a pleasure working with the Friends of Heathfield Recreation Ground and Environs (FoHRGE) on the proposals for a green roofed sports pavilion and cafe.   The current pavilion is not fit for puprose with unusable changing rooms and a steel box exterior to avoid vandalism.   The new pavilion proposes changing rooms that can be used by football clubs and cricket clubs, together with a club room that can also serve community uses such as yoga and pilates and art classes.   The cafe would invite parents and friends enjoying the park, the games area, the outdoor gym or there for a match to watch in comfort.
This much needed facility was put to public consultation this year and had 97% support from Richmond and Whitton residents.   FoHRGE are continuing their work with us towards a planning submission following a successful pre-application consultation.   We very much hope that we can assist in progressing this to a built home for Whitton Wanderers!
Are you are considering engaging an architect? Or would you like to know more about our architectural services? If so please visit our enquiry form or call 020 8977 6999 we would be happy to answer any questions you may have.