M House : Don't Move, Improve! Awards 2018
Teddington
A client with an eye for immaculate detailing and good design, our M House was carried through on site to an elegant conclusion.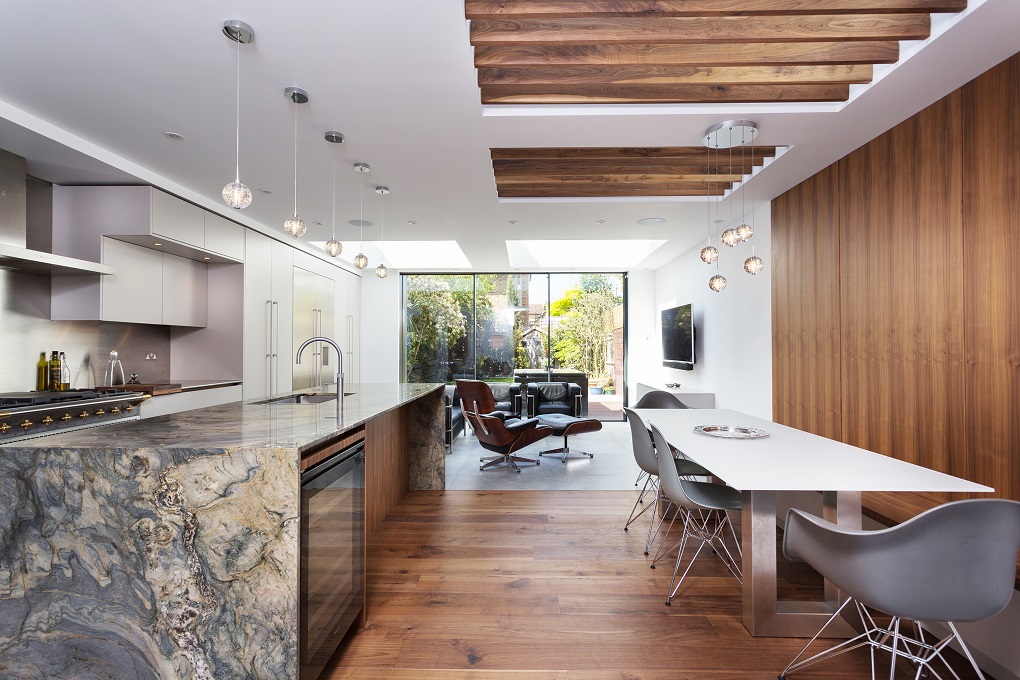 "Our Design in a Day workshop was fun, productive and a real pleasure. AWK listened to our brief and came up with a design that would not have occurred to us without her input."
Don't Move Improve Awards: Our clients wanted to replace an existing conservatory and kitchen and build an infill extension to create a family kitchen and living space, without losing the connection or the light to the original dining room.  The property is in a Conservation Area in Richmond Borough and is also a Building of Townscape Merit.  There was also a room above the outrigger with a non-compliant staircase opening into the existing kitchen. The scheme proposed a series of glass 'boxes' to the roof, most importantly one that connects the new space with the dining room to allow a view of the sky, create sufficient head room and allow light into the now inner space.
We developed a cladding detail to enclose the sliding doors and worked closely with the door supplier.   The black brick and dark zinc cladding give an elegant touch to an understated extension that does not pretend to be of a different era.  Our clients selected a Roundhouse Design kitchen for a refined finishing touch.  The bespoke Walnut Staircase was made on site by the main contractor.  The space is generous and warm and our clients' choice of materials and finishes ensured that it is finely tuned providing a light filled family home and a kitchen to be proud of. It is not a surprise that the project was nominated for the Don't Move, Improve! 2018 Awards and will be exhibited in the New London Architecture exhibition in January 2018.